These days, Cancun has made a name for itself as one of Mexico's best beach destinations. Thousands of vacation-goers enjoy their holidays on the heavenly beaches of the Mexican Caribbean, seeking a place for rest and fun, and to forget about everything else during their stay.
Having identified these needs, Emporio Cancun has focused on offering everything even the most discerning traveler is looking for, with the prime location of its property, and views of the crystal clear water of the Caribbean Sea.
The hotel features plenty of room options, from basic rooms to luxury suites. Every room is lavish in space and comes with plasma screens, internet, and other amenities that will make your stay an unforgettable experience.
As far as fine dining is concerned, you've got two specialty restaurants. There's Bácoli Trattoria, where you can enjoy exquisite Italian food accompanied by a wine from our select wine list. We recommend the Bacoli salad to start and one of our incredible pastas or pizzas for the main meal.
If buffets are your style, Condimento restaurant is the perfect choice for you. Each day, our chef offers a different food theme, from seafood, meats, Mexican food, and more. Every day is guaranteed to offer a unique experience for your palate.
You can also enjoy our wide variety of drinks and snacks at our Beach Bar and Pool Bar, where our staff will give you first-class service while you enjoy the beach or soak up the sun on a Bali bed—it's the royal treatment!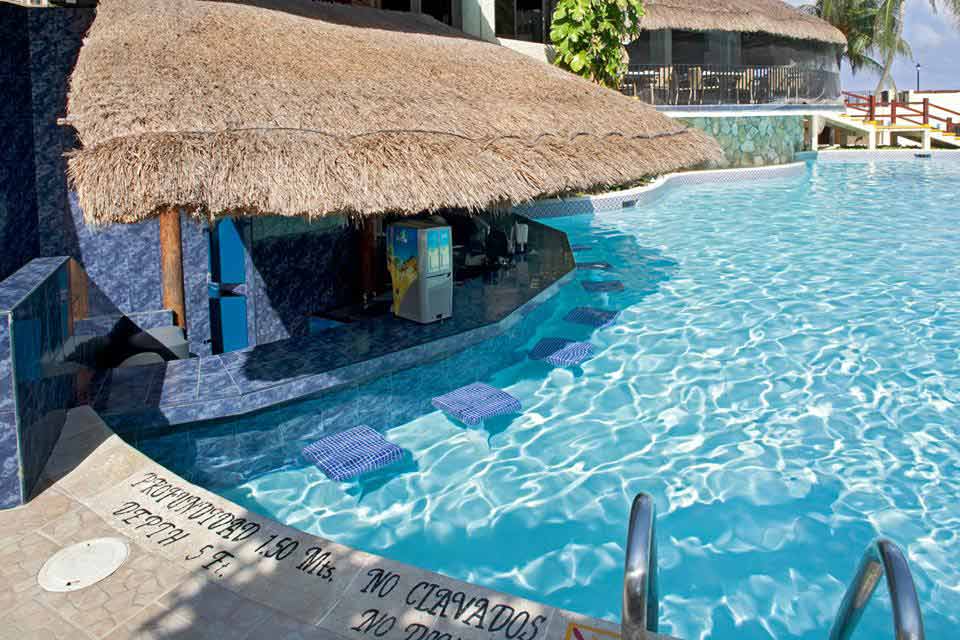 Planning your wedding on the beach or a business meeting? We've got the space for all kinds of events. You can have the beach wedding of your dreams, with impeccable service and a menu that will leave all your guests in awe.
Want to hold a conference? No problem, our event salons have room enough to accommodate any kind of event. Put a new spin on the typical city meetings and surprise your investors or customers by holding your event at this beautiful destination.
Make the most of the promotions we have for you and don't miss out on the chance to spend the vacation of your dreams at Cancun's best hotel. Come for Holy Week or book ahead of time for great deals on your stay.
At Hotel Emporio Cancun, we want your stay with us to be a lasting memory for you and your companions. Don't hesitate and make it happen with Emporio.